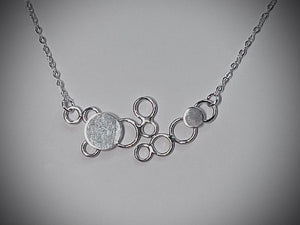 Bubble Necklace
Regular price $85.00 Sale
This modern, artisan, handmade necklace is from our "Rock Collection." It is a limited edition piece. Each "rock" was hand formed from 3/16 inch strip of sterling silver and each oval was soldered together. The piece is then finished in the tumbler.
It's elegance and simplicity make for the perfect everyday piece. It also makes a wonderful gift for the modern woman.
Dimensions: This necklace is 2 1/4 inches wide by 3/4 inch high and is attached to a 16 inch sterling silver change.
Packaging: All our jewelry comes in a cotton lined jewelry box, perfect for gift giving. 
Caring for your sterling silver: The best way to care for your sterling silver is to store it in a dry, airtight container, like a ziplock bag.