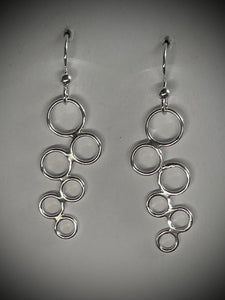 Bubble Earrings
Regular price $35.00 Sale
These modern, artisan earrings are from our "Bubble Collection." Each circle is hand formed from sterling silver and soldered together to create the effect of bubbles grouping together. The piece is then finished in the tumbler.
These are easy to wear, light weight earrings. The combination of elegance and flowing organic shapes makes for a unique addition to any woman's jewelry collection.
Dimensions; These earrings are 2 inches long.
Packaging: All our jewelry comes in cotton lined jewelry box, perfect for gift giving.
Caring for your sterling silver: The best way to care for your sterling silver is to store it in a dry, airtight container, like a ziplock bag.